Nobody likes to clean gutters. We at Pastor Cleaning do the job and we do it right. We don't do it from the ground, and we don't blow your leaves all over the place.
We get to the roof using our ladders with bar stabilizers (they lean on the roof, not on the gutters) and we take gutter cleaning tools and buckets to remove all the debris that may be in the gutters. We take all the debris we clean out from your gutters. We flush all gutters and downspouts to make sure the gutters flow smoothly.
If the gutters get clogged in the winter, water may seep under your shingles and cause roof/attic/sheetrock water damage.
We can do a one time cleaning for you, or get you on a contract where we will come to your house twice a year, once in the spring and once in the fall to clean your gutters. This eliminates one thing for you to do, schedule a gutter cleaning. We automatically come to your house and do the cleaning. You don't even have to be home!
Gutter Covers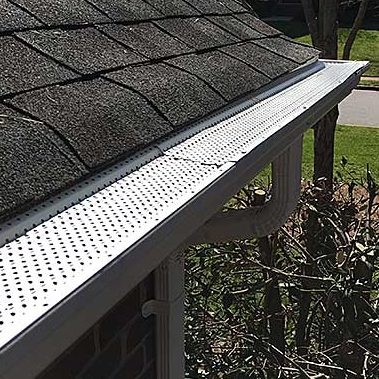 We have seen many different types of gutter covers over the years and must say none of them are 100% maintenance free. However, after trying several different types of solutions, we have determined that the best, by far, is the "smart flow" type – a perforated metal sheet that covers the existing gutter and prevents debris from clogging them. Its shape allows water to pass through and keeps the leaves on top, which can be easily blown by the wind.
They won't bend, deform or move around as they are made of aluminium, not plastic, and screwed in place.
It is very reasonably priced and convenient to install right after a thorough cleaning.
It comes in black and white and can hardly be seen from the ground.
Call us to show you a sample and give you a free quote.
---
---
Excellent Job!
Jose and his men did an excellent job. They arrived in spic and span clean white trucks and were dressed professionally and appropriately for their work.
Betty Collins
---